When it comes to fencing options today, property owners in Houston, Texas have an (almost) unlimited amount of options.
At the same, though, more and more homeowners and property owners are choosing aluminum fence Houston materials than ever before – and for good reason!
These fences are beautiful, strong, secure, and incredibly affordable. They dramatically transform outdoor spaces with a unique, attractive aesthetic while still offering the kind of privacy and protection you are after, too.
If you've been thinking about building a new fence or replacing an old one the odds are pretty good that aluminum is the right way to go!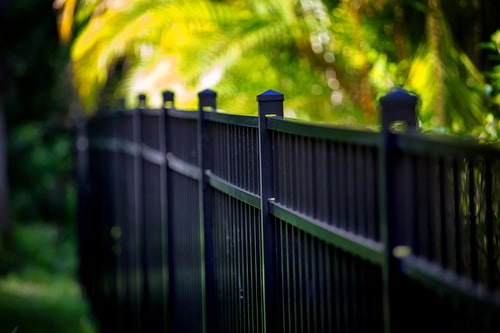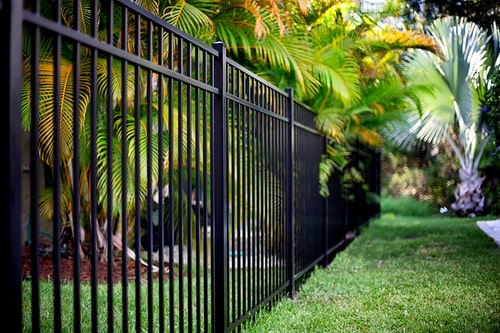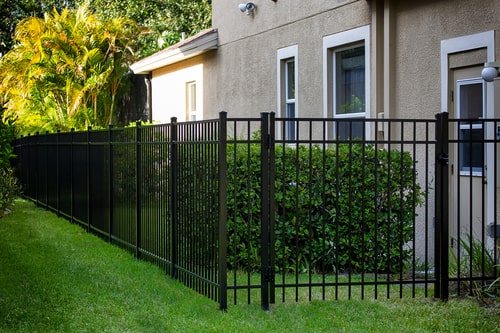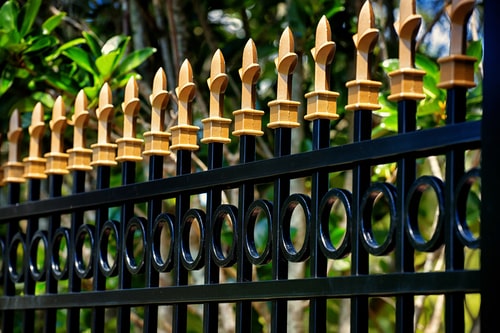 Griffin Fence Can Help Design Your Perfect Aluminum Fence
Over the past 40+ years we here at Griffin Fence have built up a reputation as one of the premier fencing companies in the Houston community.
Helping out friends, neighbors, and fellow Houston home and property owners with all their fencing needs, we've never seen the kind of demand for aluminum fencing that we are seeing today.
More people are becoming aware of just how affordable, just how versatile, and just how beautiful these kinds of fences can be. Especially when you have fencing professionals like our own helping you to design the perfect fence for your space!
We would love the chance to help you with your Houston aluminum fence project. Contact us today for a free, no strings attached quote.
Let's run through a couple of the reasons that so many aluminum fence Houston, Texas projects are popping up these days, though.
Security You Can Trust
For starters, the security features that aluminum fences offer are fantastic.
One of the biggest reasons people invest in fencing in the first place is to secure their home or their property. Aluminum fencing helps keep pets and children in designated areas but also helps keep unwanted guests (human and animal) outside of those boundaries, too.
Other fencing materials can be compromised faster than aluminum. Chain-link can be snipped, wooden and vinyl materials can be snapped, but aluminum is far more resistant to damage and significantly stronger.
The security of the best aluminum fencing Houston, TX professionals can install is exceptional!
Durable and Strong
It's also important to highlight just how durable and strong aluminum fencing materials are these days.
While aluminum is a lightweight metal, it can stand up against wind, sun, and environmental damage in a way that few other metals (and a host of other materials) can.
You won't have to worry about rot, you won't have to worry about rust, and you don't have to worry about time breaking down your fence.
This all means you're able to save a lot of time in a lot of money on repair and restoration, but it also means that your fences going to look just as good as brand-new 20, 30, 40 years down the line.
High Versatile
Let's talk a little bit about the versatility of aluminum fence Houston materials.
For one thing, aluminum fencing is available in an almost unlimited amount of designs, shapes, and patterns these days.
Some aluminum fencing materials look exactly like wrought iron (so much so that even Griffin Fence professionals might not be able to tell the difference at a distance) whereas others are more modern, more minimalist, or a little more traditional.
This means there's a lot of freedom to customize and tailor the look of your new fence to your exact specifications while still being able to use aluminum materials.
You'll get all the benefits of this strong, lightweight, and reliable material with the freedom to get your new fence to look exactly the way you want it to.
That's tough to beat!
Aluminum fencing can also curve with the shapes of your landscape without having to worry about racking. This eliminating gaps, awkward transitions, "stairstep" sections, and other issues you'll find with traditional fencing panels.
All of this helps to provide the exact look you're going for but it also offers improved security features, too.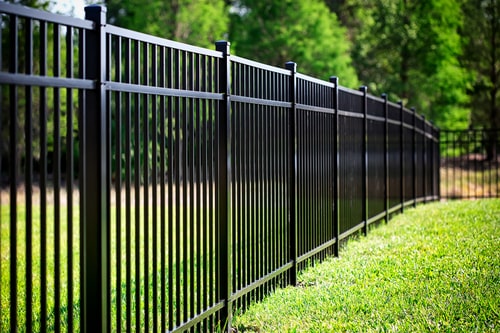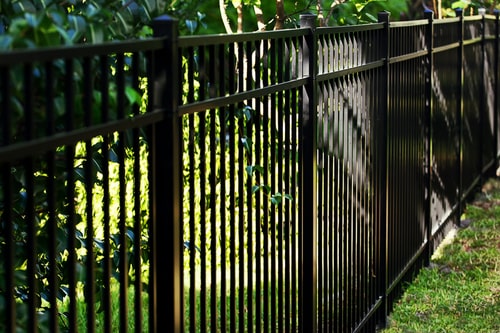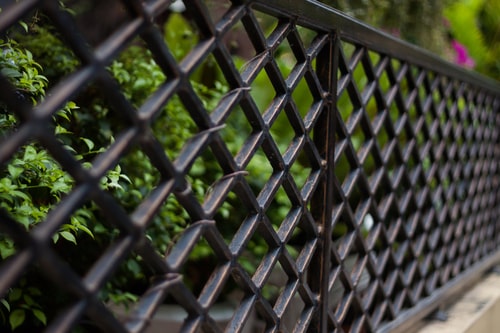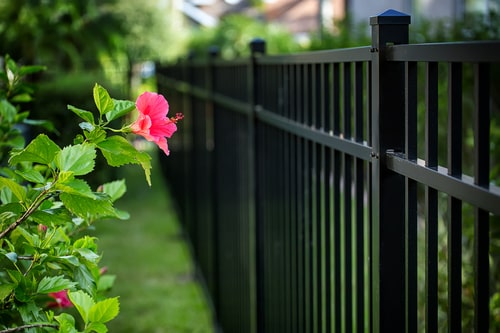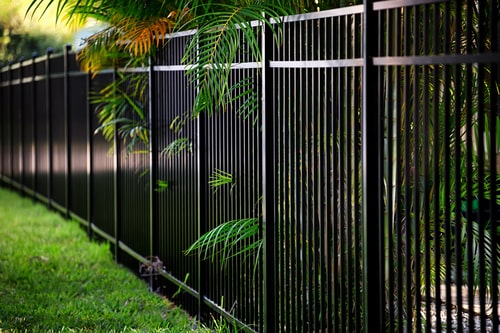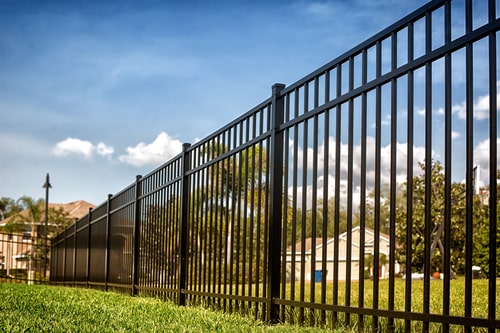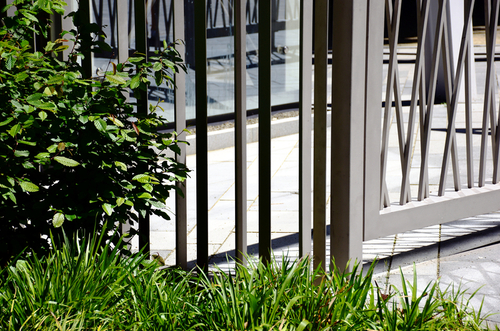 Very Affordable to Install and Maintain
The upfront costs for aluminum is significantly lower than wrought iron with almost zero real maintenance required as well.
You'll be able to secure your property with a gorgeous aluminum fence without having to spend a mountain of money upfront, but will be able to keep that fence looking just as good as brand-new with more of a "hands off" approach.
That's really tough to beat!
Sure, aluminum is a little more expensive than wooden and vinyl fencing materials. But it's also less expensive than brick and stone and has the same kind of durability.
Aluminum fencing really can be a "forever fence" material that you don't have to paint, replace, or repair anytime soon.
Contact Us Today for a Free, No Strings Attached Quote!
Here at Griffin Fence in Houston, Texas we have built up a reputation as one of the best fence installation services in the community.
For a little more than 40 years now we've been helping folks throughout the Houston area secure their property, beautify their property, and enjoy little more peace of mind and safety with quality fences built to fit their budget and their needs.
We are so proud of the fact that so many people recommend and refer our services after we build fences for them. We take our reputation very seriously, but we also understand that we have a responsibility to do the best job possible as well.
If you'd like to learn a little bit more about the Houston aluminum fence work we can do for you, or would like to schedule a free estimate and quote (with no strings attached) please don't hesitate to call us.
You can reach us directly via phone at 713-937-6611. If you're not able to connect with one of us please leave a message. We will get back to you ASAP, almost always within 24 hours – but very often much sooner than that.
Call us today for more details!