Wrought Iron Fencing Solutions
Since 1979, the Griffin Fence Company has been building high quality wrought iron fences throughout the Houston area for commercial clients looking to better protect their property without sacrificing any curb appeal or aesthetics.
Recognized for our craftsmanship, our attention to detail, and our ability to deliver wrought iron fence Houston project on schedule (and on budget), the reputation we've been able to establish over the last 40 years is something we take very seriously – and something that we are extremely humbled by.
If you've been thinking about installing a wrought iron fence here in Houston, Texas for your commercial property, we hope that you'll consider Griffin Fence Company moving forward.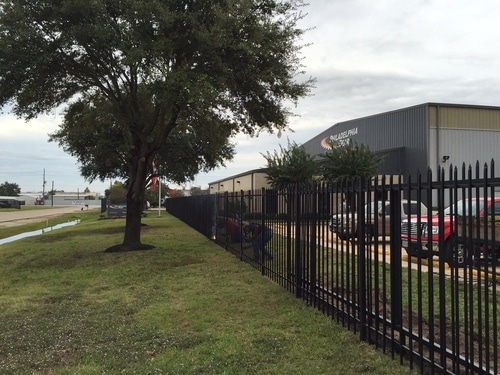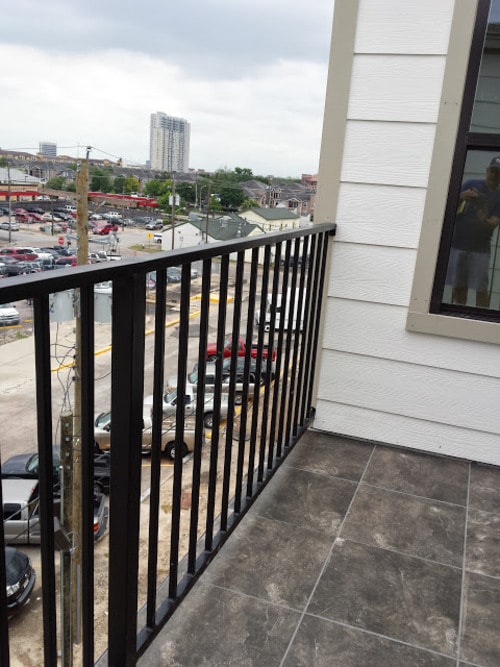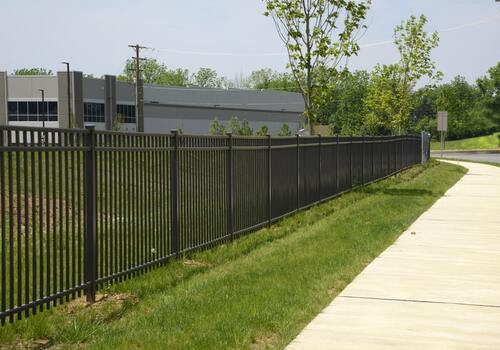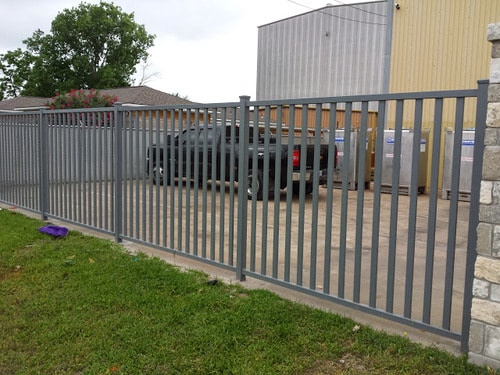 Beautiful Wrought Iron Fences Built to Last
Each and every one of our Houston wrought iron fence project begin with only the highest quality construction materials produced by real craftsmen.
These wrought iron materials are solid, are strong, and very durable – built to stand the test of time – but also have a very gorgeous aesthetic and appeal to them.
Available in a variety of different styles, you'll be able to really customize the look of your wrought iron fence project in Houston to get exactly what you are looking for to secure and improve your commercial property.
Of course, here at Griffin Fence Company we also offer wrought iron fence repair Houston services, maintenance services, and complete replacement solutions as well.
You're in the best of hands with real professionals that know how to keep your fence is looking just as good as brand-new (no matter when they were last installed)!
Dramatic Improvement to Security and Safety
The whole point of adding a Houston wrought iron fence is (generally) to improve safety and security on your commercial property without detracting from the look and feel of your business at the same time.
Getting a wrought iron fence to provide you with that safe and secure "bubble" can be a bit of a challenge when working with construction experts that are not necessarily experts in the world of wrought iron fencing.
That won't ever be a problem with Griffin Fence Company!
We have 40+ years of experience working with wrought iron fencing, and the odds are pretty good that we've worked on custom Houston fence project in the past very similar to your own. We know exactly how to get the most out of this material from a safety and security standpoint without it ever detracting from the look and feel of this fencing, too.
At the end of the day, you end up with a quality security solution that won't just improve the aesthetics of your property, but the value and the safety of your commercial property as well!
Completely Custom Fence Designs to Fit Any Commercial Property
One of the reasons that we are one of the most frequently recommended wrought iron fence Houston, Texas operations is because we work hand-in-hand with each and every one of our clients to custom design and custom fit there fencing solutions.
None of our fencing designs are "off-the-shelf".
Instead, we take a variety of different factors into account when designing these fencing runs – the site the fence will be installed on, any accessibility needs, building codes, and a whole host of other factors that play major roles and how these fences need to be deployed.
On top of that we also work with our clients to find a fencing plan that fits the look, the feel, and the aesthetic that they are after. Every square inch of your wrought iron fencing project here in Houston will be carefully laid out in a full collaborative process, with insight from our experts but always using your ideas as a guidepost.
Experts that Know Exactly How to Get the Most of Wrought Iron Materials
Truth be told, wrought iron fencing isn't like a lot of other fencing materials – and it really requires a special touch (and insider knowledge) to get the most out of everything that this beautiful, durable material brings to the table.
All of our fencing specialists here at Griffin Fence Company are well-versed in this material and how to get the most out of it.
We understand the makeup of wrought iron, we understand what it is capable of – and, maybe more importantly, its limitations – and we understand exactly how to best use it to create a safe, secure, and gorgeous perimeter on your commercial property.
As we highlighted earlier, for 40+ years Griffin Fence Company has been the "go to" choice for wrought iron fence Houston, Texas installs, maintenance, restoration and rebuild project.
We know how to deliver the results you are looking for!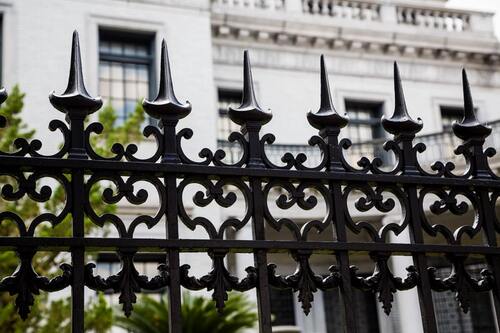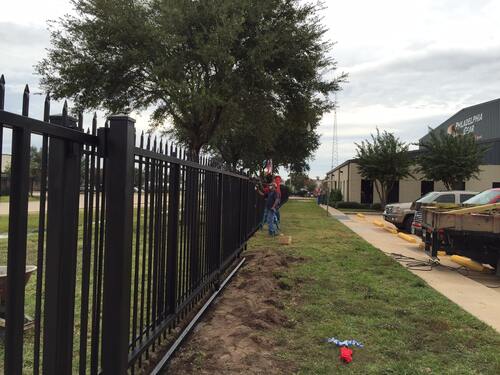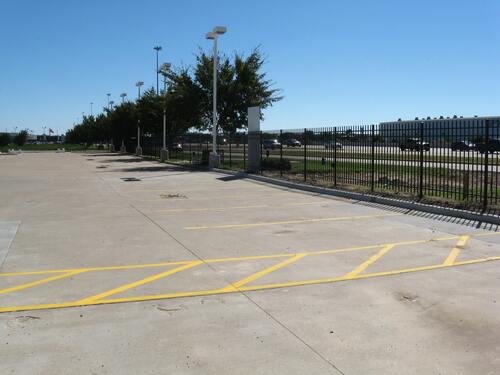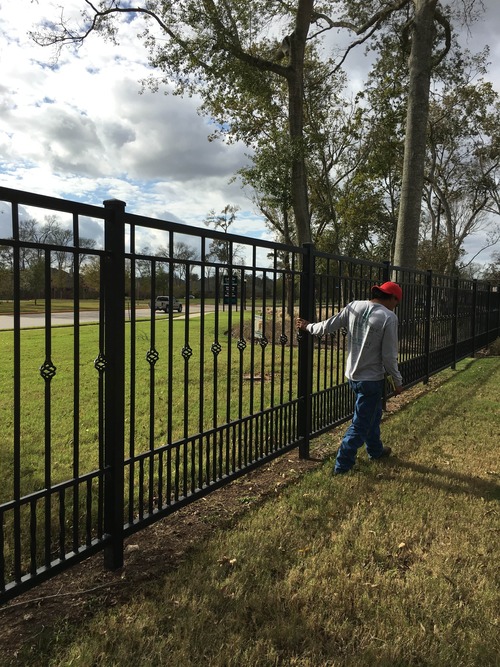 Contact Us Today for a Free Estimate!
At the end of the day, our commercial clients are looking for fencing specialists that can:
Design a wrought iron fence install Houston project that fits their site and their space perfectly
Install a quality wrought iron fence made from top-tier materials, built to last
And provide maintenance and repair services (as necessary) to keep that wrought iron fence looking just as good as brand-new for years and years to come
If that sounds like something you are interested in, or if you'd like a little more information about all of the wrought iron fence solutions we provide here in Houston, Texas, please don't hesitate to reach out to us at your earliest convenience.
We would love nothing more than to share with you some of the wrought iron fence project we've worked on in the past. We are always happy to share testimonials from clients that are over the moon with their wrought iron fences, too!
We also help commercial business owners with existing wrought iron fences restore and refinish them, repair or rebuild them, or start from scratch with a completely new custom wrought iron fence that fits their space perfectly.
No matter your needs, we are here to help!
To learn more, or to schedule a 100% free (no strings attached) estimate, please reach out to us today.