Chain link fences are some of the most commonly used types of fencing. They are durable, easy to install, and affordable. While they are often seen as utilitarian, there are a number of ways to dress them up and make them more aesthetically pleasing. Chances are if you have a chain link fence, sooner or later you will need to cover it. Whether you're trying to keep the wildlife out, conceal your home from view, or just add a little bit of decoration.
When you think of chain link fence, perhaps you imagine something that's utilitarian and not particularly attractive. It's there to serve a purpose, and once it does, it can be forgotten about. However, there are some who see beyond the plain functionality of a chain link fence and appreciate its potential for beauty. These people might choose to cover a chain link fence with plants or other materials in order to enhance its appearance. There are several reasons why someone might choose to do this.
One reason is practicality. A covered fence can help keep out wind and rain, which can damage whatever is on the other side of the fence. Additionally, it can provide privacy for those living behind the fence.
Another reason is aesthetics. Some people simply find beauty in covering up an otherwise bland object with something more decorative. This can add interest to an otherwise boring space or make a small space seem larger.
Whatever the reason may be, there are many ways to cover a chain link fence in order to achieve the desired effect. And in this blog we'll be giving you some ideas on inexpensive ways to cover your chain link fence.
Full Bamboo Screens
Bamboo screens are a great way to cover up an unsightly chain link fence and add some privacy to your property. Not only are they attractive, but they are also very affordable and easy to install. First, you'll want to measure the length of your fence to determine how many bamboo screens you will need. Next, secure the screens onto the fence using zip ties or wire. Finally, trim any excess bamboo and enjoy your newly transformed fence!
Keep in mind that bamboo screens may need to be replaced every few years as they are not as durable as other fencing materials. However, their aesthetic appeal and low cost make them a great option for temporary fencing solutions.
For added privacy, consider planting fast-growing tall plants or shrubs along the fence line to further block out any unwanted views.
Pros:
Bamboo screens offer a beautiful aesthetic, creating an elegant and sophisticated look that can enhance the appearance of any yard. In addition, bamboo plants are known for their hardy nature, making them ideal for growing in the often harsh environment of a fence.
Cons:
Bamboo can be quite expensive, especially if you need to cover a large area. Plus, since it grows quickly and densely, regular pruning or thinning may be required in order to keep the screen looking neat and tidy.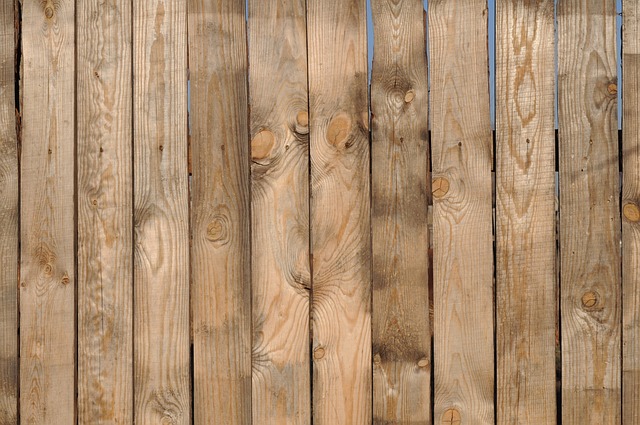 Wooden Fence Panels
Wooden fence panels offer a more attractive option that is also easier to keep in good condition. To cover a chain link fence with wooden fence panels, first you will need to measure the length and height of your chain link fence. Then, purchase wooden fence panels that are the appropriate size for your measurements. Next, attach the panels to the chain link fence using a drill and screws or nails. You may also choose to use a vinyl or wood fence overlay system, which involves attaching horizontal boards to the existing chain link fence with nylon or metal brackets.
Whichever method you choose, be sure to properly secure the wooden panels and check for any gaps in between panels that could allow animals or people to pass through. Once all of the panels are attached, you can paint or stain them for added attractiveness and protection against weathering.
Overall, covering a chain link fence with wooden panels can enhance the appearance of your property and provide added privacy. While it may require some initial effort and cost, it is a worthwhile investment that can improve the overall aesthetic of your yard or garden.
Pros:
Wooden fence panels can provide a more attractive appearance and a sturdier barrier than chain link fencing. They can also be easier to install and require less maintenance over time.
Cons:
Installing wooden panels over existing chain link fencing can be quite expensive, and they may not stand up as well in high winds or storm conditions. Additionally, periodic replacement due to weather damage or structural degradation may be necessary over time.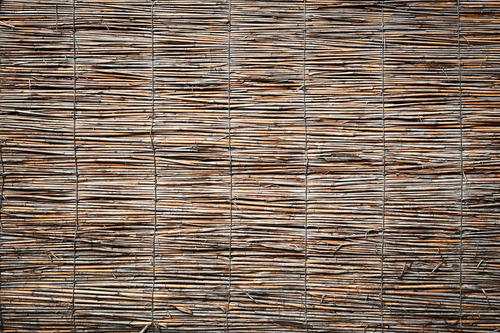 Reed Screens
Covering a chain link fence with reed screens can be a great way to improve the appearance of your property while also adding some privacy. There are a few things to keep in mind when doing this project, however, so read on for some tips on how to get it done right.
First, you'll need to choose the right reeds for the job. You'll want something that is both sturdy and attractive, so take your time in making this decision. Once you've selected the right reeds, measure the area you want to cover and purchase enough to complete the project.
Next, it's time to start assembling the screens. This is a relatively simple process – just weave the reeds through the chain link fence in whatever pattern you like. Be sure to leave spaces between each screen so that air can circulate freely.
The final step is attaching the screens permanently to the fence. You can do this by stapling them in place or using wire ties. If you go with staples, make sure they are short enough that they won't protrude out from behind the reeds and ruin their appearance.
And that's it – with some planning and effort, you now have a beautifully covered chain link fence. Enjoy the improved appearance of your property!
Note: If you live in an area with high winds, it's important to check on the screens regularly to make sure they are securely attached to the fence and haven't been damaged by the elements. Taking this extra precaution will ensure that your newly covered fence looks great for years to come.
Pros:
These screens can provide privacy, making your yard more secluded and helping to block prying eyes. They also have a sleek, attractive look that can enhance the aesthetic appeal of your property.
Cons:
They do not offer much protection from strong winds or inclement weather. Additionally, they can be less durable than traditional fence materials like wood or metal and may need regular replacement in order to maintain their appearance over time.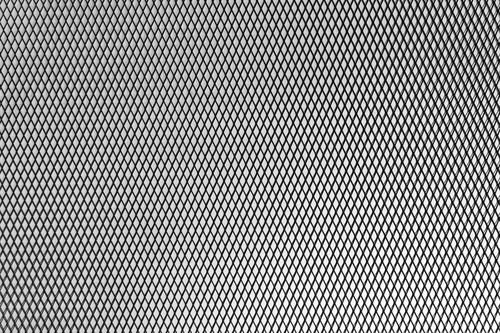 Wire Mesh
Covering a chain link fence with wire mesh is a great way to improve the appearance of the fence while also adding some security. There are several ways to do this, and it can be a relatively easy project depending on the type of wire mesh you choose.
First, you will need to decide on the type of wire mesh you want to use. The most common options are chicken wire or hardware cloth. Chicken wire is a less expensive option and is easy to work with, but it may not provide as much security as hardware cloth. Hardware cloth is sturdier and can withstand more pressure, but it can also be more difficult to work with and may require the use of power tools.
Once you have chosen your wire mesh, measure the length and height of your fence so that you know how much material to purchase. You will also need fence ties or zip ties to secure the wire mesh onto the chain link fence. Next, unroll the wire mesh and position it against the fence, making sure to leave enough excess material on the bottom so that it can be secured to the ground. Use the fence ties or zip ties to secure the wire mesh onto the fence, and if necessary, use a power tool to cut off any excess material.
Finally, use additional fence ties or zip ties to secure the bottom of the wire mesh to the ground, being careful not to leave any gaps where animals or intruders could potentially get into your yard. And there you have it – a decorative and secure covering for your chain link fence!
Pros:
It can increase the visual appeal of the fence by providing more color or texture. Additionally, wire mesh offers improved security and protection from wind and other environmental factors that can damage a chain link fence over time. Finally, using wire mesh may be preferable in some cases where there is high foot traffic near the fence, as it provides greater stability than simply attaching fabric or plastic covers directly onto the metal frame of the fence.
Cons:
Putting up additional posts or connectors to support the extra material will incur additional costs and labor expenses. Additionally, depending on the type of wire chosen for your project, it may not provide adequate deterrence against small insects and animals like snakes or rodents. Finally, extra layers of material on your fencing can potentially make noise more detectable for neighbors living nearby.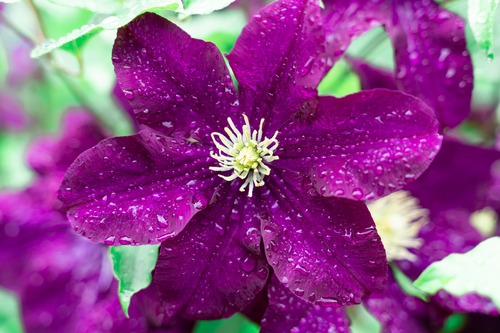 Best Plants To Cover A Chain Link Fence
The best plants for covering a chain link fence are those that are fast-growing and require little maintenance. Here are 10 of the best plants to consider for this purpose.
1) Ivy – This versatile plant can be trained to grow along the top of a fence or allowed to drape over it in a waterfall-like fashion.
2) Bamboo – Another fast-growing option, bamboo can add privacy and also lend an exotic touch to your yard. Just be sure to choose a variety that is non-invasive.
3) Clematis – This flowering vine adds color as well as coverage for your fence. It does best with support, such as a trellis, but can also be trained to climb up chain link fencing.
4) Trumpet vine – The bright red trumpet-shaped flowers of this plant attract hummingbirds and add beauty to your fence coverage.
5) Sweet autumn clematis – Similar to regular clematis, this variety has fragrant white flowers and is a fast grower.
6) California vinca – not only will it make your fence more attractive but it will also camouflage it and make it less noticeable.
7) Wisteria – Another flowering vine option, wisteria adds beautiful purple blooms to your fencing coverage. Just be sure to give it some support as it can become heavy with growth.
8) Boston ivy – A non-invasive option for those in colder climates, Boston ivy turns a stunning red in the fall and provides excellent coverage for a chain link fence.
9) Hops – The familiar cone-shaped flowers of hops can add a unique touch to your fencing coverage, and they also attract bees for pollination.
10) Carolina jessamine – This fast-growing vine has yellow, fragrant flowers and is a popular choice in warmer climates.
Conclusion
As you can see, there are many options for screening a chain link fence that will provide privacy and improve the appearance of your yard. Bamboo screens, wooden fence panels, reed screens, and wire mesh are all good choices. Be sure to select a material that is suitable for the climate in your area. Plants can also be used to cover chain link fences. The best plant to cover a chain link fence will depend on your specific needs and preferences. If you want a decorative option, wooden fence panels may be the way to go. And if security is your main concern, wire mesh is the best choice. Vines such as ivy or morning glory grow quickly and will add color and interest to your fence. Whichever route you choose, remember that covering your chain link fence can enhance both the look and function of your outdoor space.
What do you think? Which option are you considering to enhance the look of your chain link fence? Let us know!