Introduction
Fences can be expensive, so you might be wondering if you can build a fence yourself, and the answer is that you can, with some good tools and reasonable DIY skills – but you'll need to be prepared to invest some time and energy into doing it well.
Nobody wants a messy fence around their garden, so follow this guide to create an excellent fence that will neatly enclose your garden and make it look tidy, as well as containing pets, small children, etc.
Wooden fences look lovely, especially if you want a natural vibe, and wood is an easy material to work with even if you aren't a skilled carpenter. Let's learn how to build a wooden fence!
Step One: Make Sure You Are Allowed And It's Safe
You really do not want to go to the trouble and expense of building a fence, only to discover that you have to pull it down. It's crucial that you check out local planning laws and whether you need special permission before you do anything else.
Work out how high your fence will be at its highest point and make sure that this is within your area's restrictions. If it isn't, apply for planning permission before you start and wait until it's granted, or you may find that all your hard work gets wasted.
Fill in permit paperwork honestly and carefully, and then call local service providers to come and mark gas, water, and electricity lines for you. You don't want to hit a power cable while putting your fence in, so this is an absolutely crucial step.
You might think that service lines would be below the level you'll need to dig to, but this isn't necessarily the case, so always check first. Once you've got these lines marked, you should be safe to start your project. Always give service lines give them some generous clearance to prevent accidents.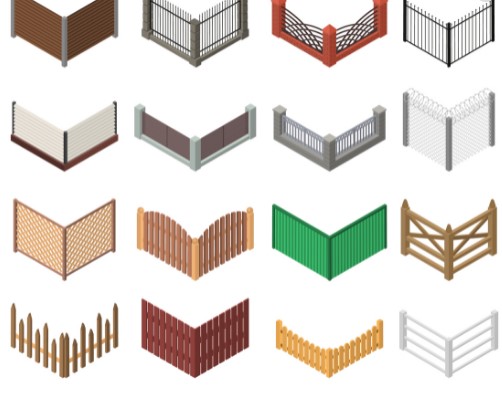 Step Two: Material Choices
What are you going to make your fence out of? Do not just use scraps of wood that have been discarded from other projects. It will look a mess, but it also will not last well at all, because the wood is likely to be untreated.
Spend a bit of time researching the best kind of wood for the conditions you're building a fence in. If you live in an area with a lot of rain or harsh sun, this is even more important. It could quadruple the lifespan of your fence.
A fence built from shoddy materials is a false economy, as you're likely to find yourself repairing or even replacing it in as little as five years.
Talk to local wood merchants and find out what they would recommend. Usually, treated woods will last better than untreated options. Remember that you will need both posts, support beams, and picket pieces in order to build a fence. You'll also need a waterproof treatment, screws, and nails.
You should also think about the height of the fence and the look that you want to achieve. Are you going for fancy or plain? Open slat or closed? Low or high? All of these things will make a difference to the materials you buy.
When buying the stakes, remember that at least a third will be buried in the ground. Do not buy stakes that are only the height you want the fence to be; you need ones that are at least a third bigger, possibly more.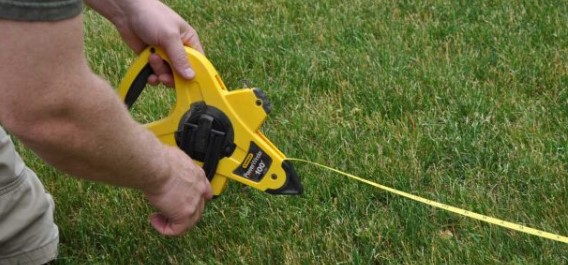 Step Three: Mark It Out
If the fence is going on the boundary of your property, make absolutely sure you know where this is, and mark it carefully. It can help to check this with a land registry surveyor. You do not want to find you're building on a neighbor's patch instead.
Mark the area and also talk to neighbors about your plans to avoid any conflict later. If there is disagreement about the fence, look for a middle ground to keep everyone happy if possible.
You should then begin marking the stakes. Remember that the height of the fence will determine how deep you need to stake it and whether you need planning permission.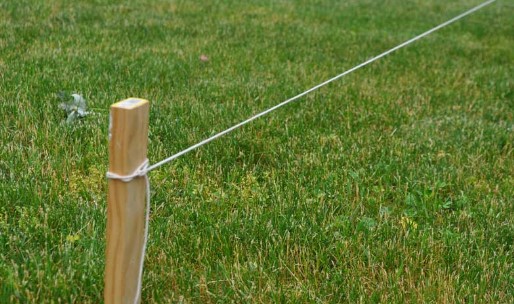 Step Four: Stake The Corners
Next, drive stakes into the corners of the plot. You should then tie a string around each stake, and use a square to ensure that your stakes are level and forming 90 degree angles with each other. You do not want your fence to end up looking wonky, so this is very important. Square edges are also easier to work with.
Check and double-check this measurement, as it will be much harder to correct mistakes later, and it's almost impossible to see this by eye. If your angles are off, spend time adjusting the stakes until they are correct. Don't rush this part of the job; taking the time to get it right will save you a lot of time and trouble later.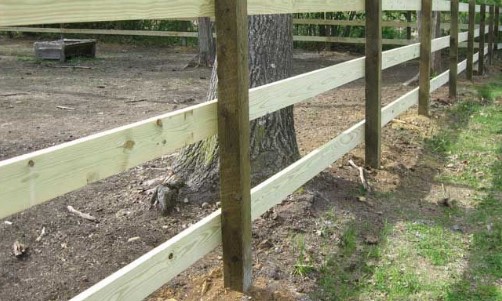 Step Five: Calculate The Other Posts
When your corner posts are positioned, you can start adding the other posts. To do this, you should take the total number of feet for one length and divide the amount by eight.
If it does not divide evenly, you will need to add an extra post so that the sides do not end up spaced out too far. For example, if you were to divide 40 feet by 8, you would need 5 posts.
If you were to divide 42 feet by 8, you would need 6 to make up for the extra two feet. Do not go for more than 8 feet between your stakes.
Once you know how many posts you will need for one direction, you can work out how far apart to space your stakes. Try to ensure all the spacing on a single side is even; this will look better and ensure that you don't have weak points in your fence that will become stressed over time.
Do this calculation and staking for each side, as a shorter length may need fewer posts, or different spacing in order to provide enough support. It doesn't matter if your posts are eight feet apart on one side, and only seven on another.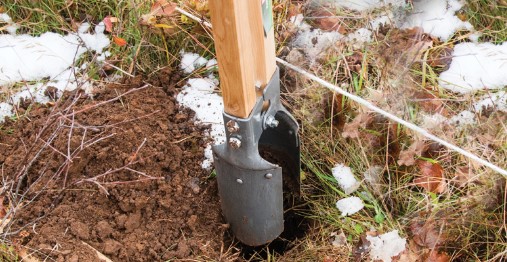 Step Six: Dig And Prepare The Holes
You now need to dig the holes where you have staked. You can either use a post-hole digger or just move the stakes and use a spade to dig out holes. A post-hole digger will be a lot easier to use, so unless you are making a small fence, it is worth buying or hiring one.
Working out the depth can be tricky, but as a minimum, you should be burying a third of the post in the ground. Tall fences will need deep holes digging, while a low fence will need less depth.
Think about the type of soil you have, and also the kind of weather you typically encounter. If you live somewhere with wild winds, you will want to go further into the ground with your fence posts to give it more durability and stability. Sandy soil may also need more depth than clay soil.
Once you have dug your holes, pour about four inches of gravel into the bottom. This will provide stability and also drainage, helping to get water away from the bottom of the post. Dry posts last longer. The gravel should also decrease the chances of the post sinking down if rain erodes the soil.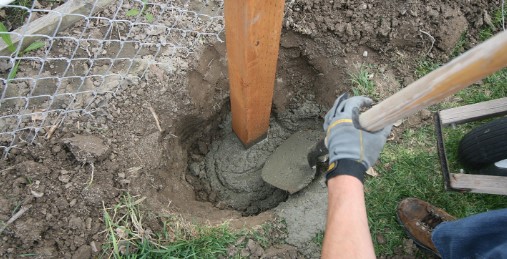 Step Seven: Cement In The Posts
Put your posts into the ground, and then use a level to check that they are sitting straight and square in the holes. It is best to do one post at a time, but check every post as they will be difficult to remove once they are in place.
When you're satisfied that your post is absolutely square and straight, get somebody to hold it in place while you pour in the concrete. You should fill the hole to about two thirds, and then add water on top and stir.
It is much easier to do this job with two people, so somebody can support the post and prevent it from moving while you deal with the cement.
Once the concrete has set, you can fill the remaining part of the hole with dirt to conceal the concrete.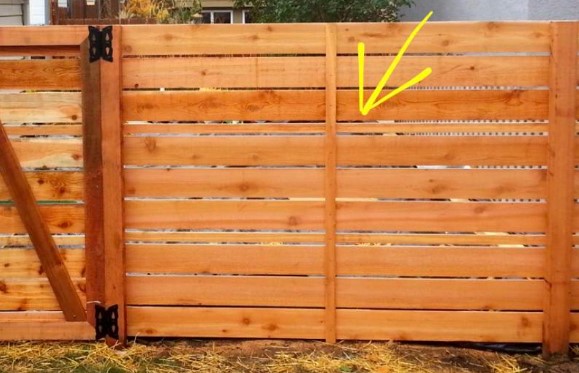 Step Eight: Add Support Boards
When all your posts are in place, it's time to add the support boards. First, you should tie a string around the top of each stake in a long line from one end of the fence to the other. This will show you a level point and help you to keep the fence at the same height all the way around its perimeter.
When you have your line in place, you need to add the horizontal struts (the support boards) that you will later nail the pickets to. These should be spaced at around 24 inches apart or less – not further, or they may flex.
Depending on the height of your fence, you will probably have 3-4 support boards.
Check each support board is level using a spirit level, and then screw it into place with decking screws. These should offer strength and stability. Pause every so often to check your boards are lining up on each section of the fence; it's easier to correct a mistake partway through than at the end.
Work slowly and carefully, and – as with the stakes – choose to space them at less than 24 inches rather than more if this is necessary.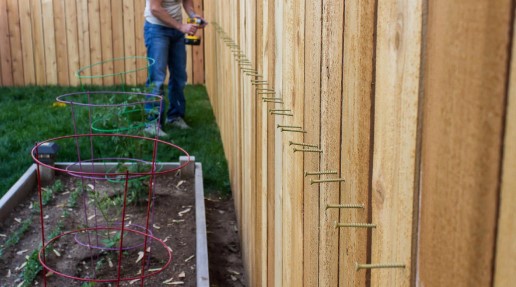 Step Nine: Secure The Pickets
At last, you're ready to start adding pickets to the fence! You can either screw or nail boards into place, but you should first think about how they are going to look, whether you want any spaces or overlap, etc.
You can buy pre-cut fencing boards which should work well for this job, and there are many different options, either simple or fancy.
Think about the look you want to achieve and consider checking out some fences online to help you decide before you buy. You could also sketch your plan to see how it looks on paper.
If you are going to space your boards out, make sure that you have a spacer you can use to get the space between every board identical, or your fence will end up looking messy. If you are nailing them all flush, lay them out to see how they fit and whether you are going to have to cut any narrower.
Once you have decided on the fit, you can start attaching each board. Use a spirit level to make sure that the top is flat and that the boards are all at the exact same height. You don't want to find you have built a wonky fence, so pause regularly to check.
If you're nailing your boards, make sure you use galvanized nails that are weatherproof and will not simply rust away – or you'll soon be replacing your fence. Screws should also be rust-proof and suitable for outdoor use.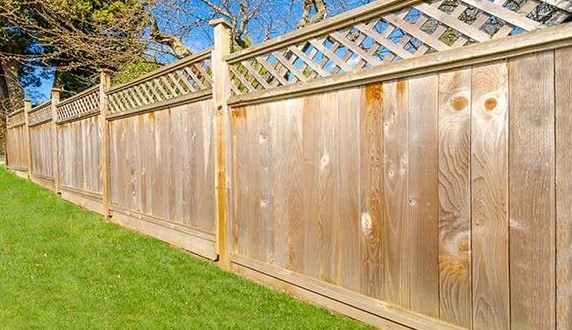 Step Ten: Treat And Paint
When the job is done, it's time to treat the wood. This will make it last much longer, and should be done even if you have purchased treated wood. It is also an opportunity to change the look of your fence if you want to.
You can just apply a weatherproofing coat that won't affect its aesthetic, or paint the fence or stain it. All of these will add to the longevity, especially if you regularly redo the coating as it begins to wear away.
Oil-based paints are often best for use outdoors. These will offer long-term protection and help the fence to last regardless of the weather.
Summary
You now know how to build a fence! This is quite an involved project, but does not call for any major crafting skills. The biggest requirements will be patience and precision; these will help to ensure that the fence is straight and your lines are accurate. Take your time in measuring.
Choosing good quality materials will make all the difference to your fence's longevity, so do not settle for something just because it is cheap. Pay a little more for good materials, and the fence should last a lot longer, especially if you refresh its coating on a regular basis.