Wood fences are a timeless and versatile choice for homeowners looking to add privacy, security, and aesthetic appeal to their property. With numerous design options available, it can be challenging to decide on the right style for your needs. In this blog post, we will explore eight popular wood fence styles that can transform your outdoor space and complement your home's architecture.
1. Picket Fence
The classic picket fence exudes charm and creates a welcoming atmosphere. Typically featuring evenly spaced vertical pickets, this style is perfect for defining boundaries while maintaining an open and friendly feel. Picket fences are available in various heights and can be customized with decorative details like scalloped or arched tops.
2. Privacy Fence
If seclusion is your primary goal, a privacy fence is an excellent choice. Constructed with solid wood panels or overlapping pickets, this style provides maximum privacy and noise reduction. A well-built privacy fence creates a sanctuary in your yard, shielding it from prying eyes and outside disturbances.
3. Lattice Fence
For a touch of elegance and visual interest, consider a lattice fence. Lattice panels feature crisscrossed wooden strips, creating an open yet decorative pattern. This style is ideal for supporting climbing plants and adding a charming backdrop to your outdoor space.
4. Split Rail Fence
A split rail fence is a rustic and cost-effective option that adds a touch of country charm to any property. It is characterized by horizontal wooden rails placed between vertical posts. This style works well for large properties or as a boundary marker without obstructing views.
5. Shadow Box Fence
The shadow box fence combines privacy and an appealing visual aesthetic. It features alternating pickets on each side of the fence, creating an attractive pattern that allows air circulation while maintaining privacy. This style is a popular choice for both residential and commercial properties.
6. Horizontal Fence
Modern and contemporary in design, the horizontal fence adds a sleek and stylish touch to your outdoor space. Instead of traditional vertical pickets, the boards are positioned horizontally, offering a clean and streamlined appearance. Horizontal fences can be customized with different wood widths and spacing for a unique look.
7. Board-on-Board Fence
Similar to a shadow box fence, a board-on-board fence offers privacy while adding depth and texture to your property. It consists of overlapping boards on each side of the fence, ensuring no gaps between them. This style provides an attractive appearance from both sides of the fence, making it ideal for shared property lines.
8. Farmhouse Fence
The farmhouse fence, also known as a post-and-rail fence, is a timeless and functional option. It features sturdy horizontal rails secured between vertical posts, creating a classic and durable boundary. This style is commonly used in rural and rustic settings, adding a touch of traditional charm.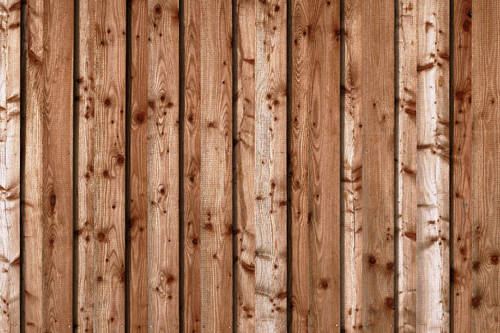 Choosing the right wood fence style can greatly enhance the aesthetics and functionality of your outdoor space. Whether you prefer the classic appeal of a picket fence, the privacy of a solid panel, or the modern look of a horizontal design, there is a wood fence style to suit every homeowner's taste. Consider the architectural style of your home, the purpose of the fence, and the overall ambiance you want to create. By selecting the right wood fence style, you can transform your property into a beautiful and inviting sanctuary that reflects your personal style.