When it comes to creating a private and secure outdoor space, an aluminum privacy fence can be an excellent choice. If you're looking for a reliable resource that offers a wide range of aluminum privacy fence designs, Griffin Fence is worth exploring. In this blog post, we will review the features, benefits, and design options available on Griffin Fence, helping you make an informed decision for your privacy fence needs.
Griffin Fence offers an extensive selection of aluminum privacy fence designs, catering to various preferences and architectural styles. Whether you're seeking a traditional look or a more modern aesthetic, you can find the perfect design to suit your taste. From solid panel styles to decorative patterns and lattice tops, their range of options allows you to create a fence that harmonizes with your property's overall look and enhances its curb appeal.
Durability and Low Maintenance
One of the key advantages of aluminum fences is their durability and low maintenance requirements. Aluminum is resistant to rust, corrosion, and weather damage, making it an ideal material for outdoor applications. Griffin Fence's aluminum privacy fences are built to last, ensuring long-term protection and privacy for your property. Additionally, aluminum fences are virtually maintenance-free, requiring only occasional cleaning to keep them looking their best.
Customization and Flexibility
Griffin Fence understands that every homeowner's needs and preferences are unique. They offer customization options to help you tailor your aluminum privacy fence to your specific requirements. Whether you need a particular height, gate placement, or color finish, Griffin Fence can accommodate your requests. Their flexibility ensures that you can create a fence that meets both your functional needs and aesthetic desires.
Easy Installation
Installing an aluminum privacy fence is typically straightforward, and Griffin Fence provides resources and instructions to guide you through the process. Their fences are designed for ease of installation, and their website offers helpful guides and videos to assist you at every step. If you prefer professional installation, Griffin Fence can recommend reputable contractors in your area who are experienced in working with their products.
Quality and Customer Service
Griffin Fence prides itself on providing high-quality products and exceptional customer service. Their aluminum privacy fences are crafted with precision and attention to detail, ensuring superior quality and durability. Additionally, their knowledgeable customer service team is available to answer any questions you may have, provide assistance with design choices or installation, and offer guidance throughout your purchase journey.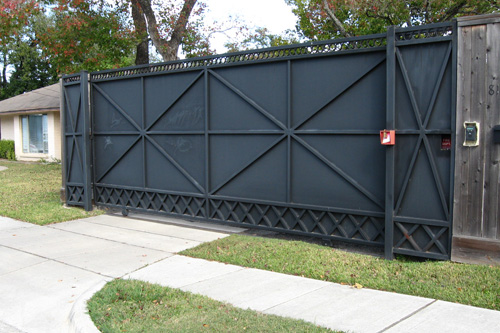 When it comes to choosing an aluminum privacy fence, Griffin Fence offers a comprehensive range of design options, durability, customization, and excellent customer service. Their website serves as a valuable resource, providing access to a wide selection of high-quality aluminum privacy fence designs. Whether you're seeking a traditional or contemporary look, Griffin Fence can help you create a private and secure outdoor space that adds value and beauty to your property. Visit Griffin Fence to explore their offerings and embark on the journey of transforming your outdoor living area.