Installing a fence increases the security and privacy of your property and, when done correctly, it can add to the curb appeal of your home. But before you install that new fence, there are a few things to consider.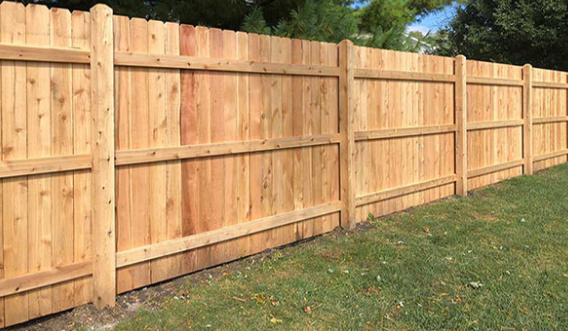 Why Add a Fence to Your Property?
There are many benefits to adding a fence to your property, including privacy, safety, marking property boundaries, and security.
Privacy
One of the most common reasons for adding a fence to a property is to create more privacy.
Privacy fences are popular in neighborhoods where homes are in close proximity to each other. By adding solid fencing, homeowners create separation between homes and create a more intimate atmosphere.
Privacy fences are also beneficial for homeowners who have nosey neighbors!
Safety
Another common reason that people add fences to their homes is safety.
A sturdy fence provides a safe and enclosed area where children and pets can play. Having this type of closed space allows homeowners to worry less about pets or children wandering off while still taking care of other household tasks.
Safety is not just about keeping things inside the yard, though it is also about keeping things out of the yard!
For example, many pet owners find that invisible fences become a problem because they do not keep stray dogs and wildlife from wandering into their yards. So, while their pet is safe from things like neighboring roads, they are not necessarily protected from disease and parasites carried by other animals!
Marking Property Boundaries
In some instances, adding a fence is only about marking property boundaries. This type of fence often gets installed when a home first gets built.
Boundary marking fences allow for the separation of closely neighboring land lots and let each lot owner know where their property begins and ends.
Marking property lots in this way is beneficial, especially when neighbors argue over land features like fruit-bearing trees.
Boundary fences are also a good option when green areas of two homes run together and are likely to be confused.
For example, when two houses have large open backyards, understanding where one property begins and the other ends can be confusing, but a boundary fence eliminates that confusion.
Security
Security is another chief concern for homeowners who choose to install a fence.
Adding a fence to a property
Makes it more difficult for thieves to check for easy access points around the home.
Makes it more difficult for thieves to take an inventory of items that they can take from the house.
Protects younger family members from being watched by unsavory characters.
Installing a security fence also helps to boost property security by providing perimeter mounting points for security cameras.
With a better vantage point, mounted security cameras provide homeowners with a clearer view of less visible areas on their property.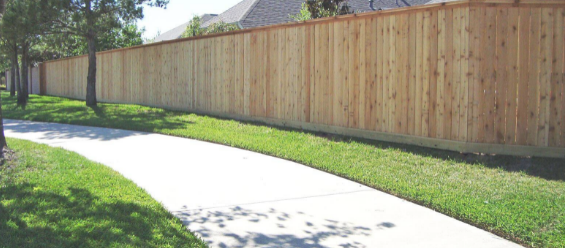 Should You Add a Fence to Your Property?
Before you add a fence to your property, consider whether you should – that is, whether there are any repercussions to installing a perimeter fence.
Of the biggest concern for most homeowners are regulations set out by their Homeowners Association. Some HOAs forbid homeowners from installing privacy fences altogether, where others require preapproval before a fence installation.
If your HOA forbids fence installation, do not ignore this stipulation! If you ignore your HOA and install a fence anyway, you will have to take down your fence. You may also have to pay a fine.
If you refuse to take down the fence, you face the possibility of a lawsuit.
If your HOA requires preapproval before fence installation, this is likely because they have specific aesthetic requirements. For example, many HOA's require fences to be of a certain height, and others also require that fences be made from a specific material (like black iron fencing rather than wood panel fencing.)
HOA regulations keep a neighborhood looking uniform and maintain "curb appeal."
What Type of Fence Should You Add to Your Property?
The primary concern when deciding what type of fence to add to your property is whether you have HOA regulations (as mentioned above.) If your HOA regulations do not limit your fence, however, you do have options.
A Wood Fence
Wood fences are affordable while still being sturdy and easily customizable with a lick of paint.
Wood fences can be panel fences or post fences.
Wood panel fences are less aesthetically pleasing, but they provide more privacy and security because they fully enclose a space.
Post fences are more aesthetically pleasing, but they are less secure and offer less privacy because they have gaps between posts.
A Wrought Iron Fence
A wrought iron fence is a decorative and practical fence that also gives a property a certain amount of elegance.
Wrought iron fences are customizable with unique scrolling and decorative caps. These accents add to the curb appeal of homes. Unfortunately, wrought iron fences are expensive and require annual maintenance to prevent rusting.
A Vinyl Fence
Vinyl fence panels are a more recent addition to fencing. Vinyl fences are affordable and are available in panel and post versions.
Vinyl fencing is lightweight, which makes transportation and installation of fencing easier for homeowners. The light weight of vinyl fencing can also pose a problem, though, since it is more susceptible to damage in strong winds and storms.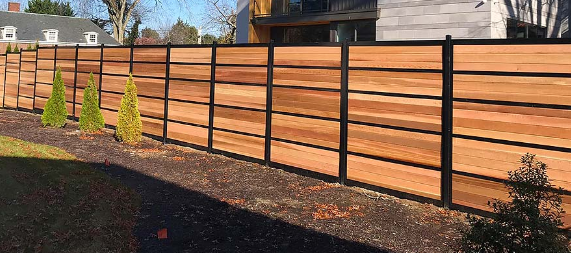 How To Install A Wood Fence
Wooden fences are the most common choice for homeowners because they combine affordability and durability. So, how do you install a wooden fence?
Plan Your Fence
Before you start shopping for fence panels or boards, you need to have a plan in mind for your fence.
Planning your fence means considering:
Whether you want a panel or picket fence.
What type of wood you will use to build your fence?
Where you want your fence to be – will it surround your property or just a section of your property?
What distance will your fence cover in linear square footage? (This will determine the amount of fence that you need to purchase.)
Make a list of the materials you need to build your fence including your wood, your hardware, tools, etc.)
Ensure that you have a method of transporting your supplies!
Be sure to know where your property boundaries lie.
Get Your Materials
The next step in wood fence installation is to shop for your materials. All the supplies that you need can be found at local hardware stores.
You should already have a list of the supplies that you are shopping for, but do not just throw anything onto your shopping cart! Check every piece of wood for defects and warping so that you get the best pieces for your fence.
If you do not have a truck to bring home your fencing materials, larger chain hardware stores often have trucks for rent. If you need to rent a truck, check ahead of time to make sure that your store has a truck available.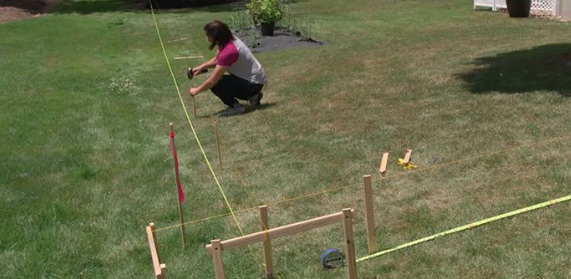 Map Out Your Fence
Map out your fence by laying out the perimeter using batter boards and string. Pull the string taught between the boards. This mock fence will keep you from going askew when installing the physical fence.
Once you have mapped out your fence, use spray paint to mark fence post locations along the perimeter. Your posts will most likely be set either six feet or eight feet apart.
Cut Fence Holes
The next step in building your fence is digging holes for your fence posts. Use a post hole digger or auger to create post holes and dig down to a depth of at least 1/3 the length of your fence post.
Once you have dug this post hole, dig an extra four inches to accommodate for gravel. The width of your post hole should be three times as wide as your fence post.
Position The Fence Poles
Once your post holes are ready, add four inches of gravel into the bottom of each hole. Gravel creates proper drainage so do not skip this step!
Use the base of the fence post to pack down the gravel.
Once you have added gravel to each post hole, mix up your concrete.
When your concrete is ready, hold a fence post in the center of the post hole on top of the gravel. Pour the concrete around the post until you are six inches from the top of the hole. Complete each fence post hole as you did the last and then give the concrete time to set.
Brace each post in the center of the post hole using stakes and 2×4's. Bracing will keep the posts in place as the concrete dries around them. Without bracing, your fence posts will slip, and you will not have straight posts on which to anchor your fence.
After the concrete sets completely, you can remove the braces from your posts and fill in the extra space on top of the concrete with dirt.
Attach Your Rails/Fence Panels to Your Posts
Now that the fence posts are solidly anchored, it is time to attach your fence rails to your fence posts using deck screws or galvanized nails.
As you attach the ends of the fence rails to the posts, predrill for fasteners (you want to use two fasteners for each fence post.) As you continue building the fence, be sure to use a level to keep the rails on the level.
The number of rails you use for your fence depends on how tall your fence is. Shorter fences require only a top (six inches from the top of the fence post) and bottom rail (six inches from the bottom of the fence post,) where fences six feet or taller need an added middle rail.
Attach Your Panels or Pickets To Your Rails
If you are using fence panels, attach the panels to the fence rails.
If you are using pickets, attach your first picket to the fence rails using galvanized screws or nails. Use spacers at the top, middle, and bottom of the picket before placing the second picket so that you space each picket apart evenly. Continue affixing the pickets using the spacers between each one.
Attach Your Post Caps
With the body of your fence built, it is time for the decorative touches! Use a rubber mallet to pound the post caps onto the posts of your fence.
Fence caps will fit tightly onto your fence posts, but you should still use a galvanized finish nail to keep each cap in place.
Treat/Stain Your Fence
With the finishing touches in place, now it is time to think about the lifespan of your fence and that means treating/staining your wood.
Applying a treatment to the wood will weather-proof and waterproof it and extend the life of your fence. Another important area to treat is the base of your fence posts – applying a wood preservative will keep the post wood from rotting.
After treating your fence, wait until the wood is completely dry before adding a stain or painting the wood.
If your wood is already treated, you do not have to treat it for a second time. So, if you used pressure-treated wood you just need to apply a finish or stain after you construct the fence.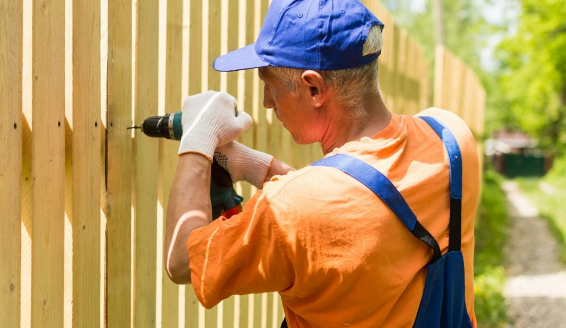 Consider Professional Installation
If you are uncertain of your DIY skills or simply are not prepared for a labor-intensive job, consider hiring a professional fencing company to build and install your fence for you instead of doing the job yourself. While hiring a professional fencing company comes at a cost, it costs less than attempting and failing the job yourself and having to call a professional in to correct your mistake!
If you do decide to hire a fencing company to build and install your fence, be sure to thoroughly research the company that you are considering. Look for a company that has a good local reputation and that has overwhelmingly positive customer reviews. The more research you put into hiring a fencing company, the more confidence you can have in their work for you.